A well-fitting collar and lead is essential to ensure that your basset hound looks forward to the prospect of a walk and enjoys being on the lead. At first, it may seem a simple task to select a lead and basset hound collar but when you see the range of products on display at a pet store you may be overwhelmed. These tips should help you with choosing a collar and lead that fits your basset hound correctly.
Please note that you'll need a basset hound harness specifically for walking, for safety reasons. It's perfectly alright to let your basset wear a well-fitting collar around the house.
Basset Hound Collar Size
The single most important (and maybe most obvious) thing to consider is the proper size. To do this, slip two fingers between your basset's neck and the collar. There should be not too much, but not too little space – aim for a loosely snug fit like this. It must work well in combination with a harness too. If too tight, your dog will be uncomfortable and could lead to other issues if rubbing into the loose skin.
The average adult basset hound will fit a 20 inch or 50cm collar, though to be on the safe side, it is highly recommended that you measure your basset hound's collar size to ensure you get the correct collar size.
To figure out your basset hound's collar size, take a tape measure and place it loosely around his/her neck, leaving snug room for two fingers between your dog's neck and the tape measure. Aim for a comfortable and consistent gap around your basset's neck, where the collar would comfortably fit.

Types of collar
There are a range of different basset hound collars available on the market and each is fit for a different purpose, also considering factors such as the basset's size and environment.
Buckle collars
Buckle collars are the most popular choice for most dog breeds and should most definitely be worn by puppies to avoid injury or choking hazards caused by other types of collar. Buckle collars come with wither plastic or metal snap buckles. You may wish to consider plastic buckles for a dog who often is around water, to eliminate the problem of the metal rusting over time.
Martingale collars
Martingale collars, also known as loop on loop or safety collars are primarily designed for breeds with necks that are larger than their heads. They prevent the dog from pulling back out of the collar and escaping. You may wish to consider one for your basset hound if you have concerns with your basset slipping out of the collar, especially if they are of a more slender build.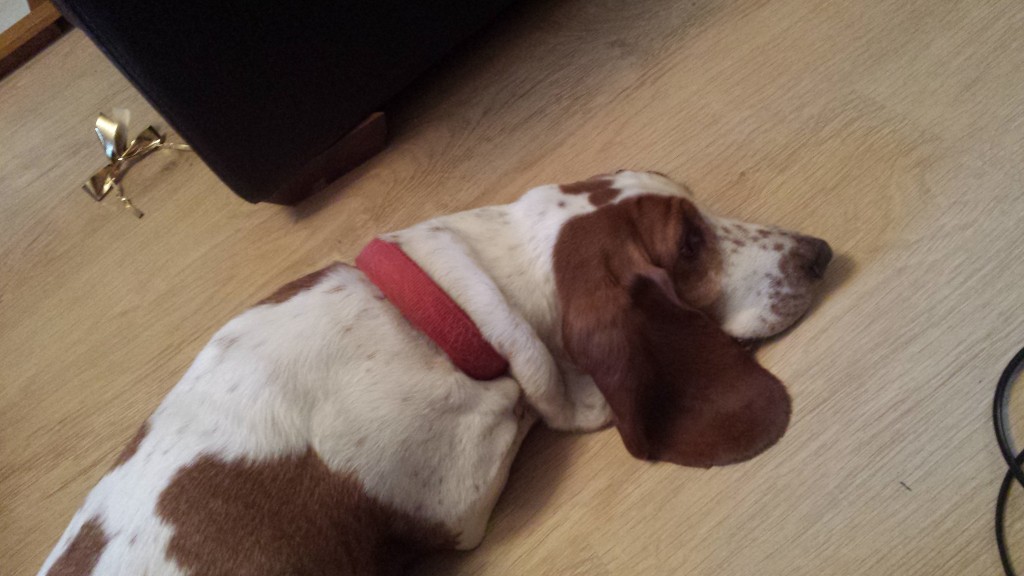 Collar Materials
Collars come in many different colors, styles and materials with a range of different options. Here's a quick overview.
Nylon
Nylon collars have several advantages, such as being washable and durable. They are available in many different colors, including printed styles. Nylon collars are made from material that is either rope-like or flat.
Leather
Leather collars have the advantage of wearing well and will become soft from the natural oils from your dog's coat. These collars come in flat or rolled leather varieties. Rolled leather collars will not make an indentation on your dog's coat as quickly as nylon does.
Harness or Collar?
When walking, opt for a harness for your basset hound. This is because the basset's neck has quite a bit of loose skin. A harness alleviates any chance of rubbing or irritation completely so you should look into getting a harness for walking purposes. The full body support alleviates the pressure around your the basset's body.
Check out our basset hound harness guide here!
An important decision for your basset!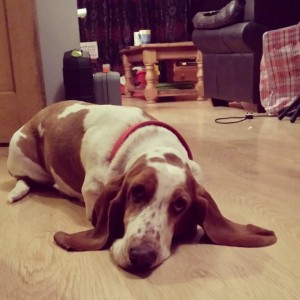 Hopefully these pointers will help you make an educated decision when seeking a collar for your basset hound.
Remember to consider the size of your hound as well as the intended application of the collar. Investing in a quality, well-fitting and safe basset hound collar will ensure that your hound is comfortable at all times.
With a little knowledge of how to pick out the correct collar for your basset hound, you are assuring that your dog will be happy both while exercising and while chilling out at home.
Our basset hound collar recommendations
Here's our top picks for basset hound collars! Of course there are a huge load of collars available online, but here are a few that we really liked and they are proven 100% basset compatible.
Be sure to follow the sizing tips and double check that your hound is comfortable on a regular basis. Here's a few ideas to get you started.
---
---
---
---
---