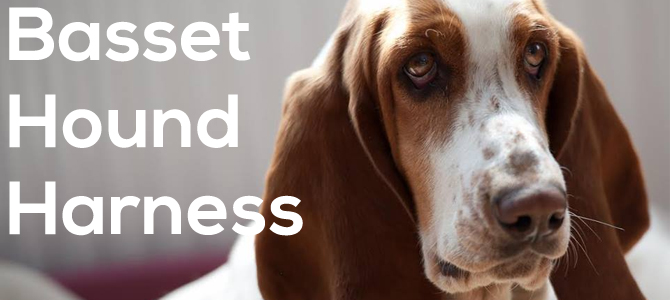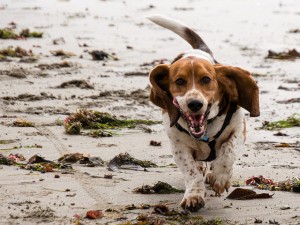 Basset hounds are built differently to most dogs! Choosing the best basset hound harness for your dog is one of the most important considerations.
Regular walks are important and your hound needs to be comfortable and safe while on the move.
When shopping for a basset hound harness, the things you need to be thinking about is the uniqueness of the basset shape. The long body and low-set legs mean that bassets are a lot closer to the ground.
Although bassets are a lot shorter, they also can be quite strong and demanding. This is especially the case when they are fully grown.
The basset hound form features a lot of loose skin around the neck area, which means that a collar alone is not sufficient.
To prevent any possible irritation or damage, a harness is highly recommended.
You'll be looking for something adjustable and easy to take on and off as well as being robust and able to gently control the tendency to pull while walking.
This guide should help you discover a few practical options that your hound will appreciate.
Measuring for a basset hound harness
On average, adult basset hounds can weigh up to around 25-30kg, so it's important to size your basset up correctly.
Harnesses are sized by your basset's girth, which can be found out by measuring around the body around the broadest part of the chest.
An adult basset can be around 25-35 inches girth. When looking for a harness, make sure you follow the sizing guides provided and take an accurate measurement with a measuring tape.
Always allow for a little extra room for coat length or room for growth if needed, and if you have a growing pup, make sure that there's often room for growth and that nothing is too tight.
Basset hound harness recommendations
Here are a few of Basset Hound World's picks for basset hound harnesses for you to take a look into. Remember the points above and always follow the manufacturer's guides as provided on the product page.
Ruffwear, Front Range Dog Harness, Reflective and Padded Harness for Training and Everyday
The Ruffwear Front Range Dog Harness is an ideal choice for Basset Hounds, known for their adventurous spirit. Lightweight, durable, and designed for extended wear, this harness ensures your Basset Hound's comfort during all-day outdoor adventures. The design also allows for easy donning and removal, accommodating your Basset Hound's unique body shape.
The harness features two leash attachment points, providing excellent control, which is crucial for training Basset Hounds known for their stubborn streak. The reinforced webbing at the chest withstands pulling, while the aluminum V-ring on the back offers additional control. Foam-padded strips across the chest and belly ensure equal load distribution, providing comfort when running, walking, or resting.
The Ruffwear harness offers a customizable fit with four convenient points of adjustment, allowing a full range of motion for your Basset Hound. An easily accessible ID pocket allows for safe storage of your dog's tags. Additionally, the bright, easily visible fabric with reflective trim ensures your Basset Hound stands out against any landscape, day or night, enhancing their safety during outdoor activities.
---
Chai's Choice Best Outdoor Adventure Dog Harness
These eye-catching harnesses come in 3M reflective material, meaning that they are ideal for night-time adventures and roaming around. There's a great selection of colours on offer.
Chai's Choice adventure harness features a handle so that you can easily get a grip on your hound if it's required. If necessary, this handle can also be used to loop through a car seatbelt. This can be useful if your basset has a tendency to jump around the car.
The D rings are made of metal and are positioned in the centre of the back and chest positions which can be used as appropriate.
Overall, a really nice harness which is brightly colored and perfectly suited for bassets of all shapes and sizes.
---
PUPTECK Best No-Pull Dog Harness
Probably one of the more stylish harnesses on the market, the PUPTECK harness includes two leash points on the back. They are both made of metal to assure strength. This allows more versatility when connecting leashes up to suit the basset.
We particularly liked this one for it's stylish looks and comfort. The clips are easy to reach and allow for swift adjustment. There's an attachment point on the chest too if required for training.
The smaller sizes only have one D ring on the back. This shouldn't be too big of a deal for the average basset, however!
Other features include a handle for seatbelt attachment and reflective stitching for nightly basset prowls.
---